By: Maria D. : October 2019 :
Blogging. It seems like such a simple task. Pick a topic you feel passionate about and write. #BOOM. Done. Well, that's all fine and dandy when it comes to personal blogs, but when it comes to writing agency/industry blogs, it's a little more complicated than that.
Blogging, like many things, isn't always about you and what you want, it's about your audience and what they want. It's about establishing a common ground by finding topics your audience feels are informative, interesting, and worthy of reading. Blogging is about being flexible and adaptable in your way of thinking and not being averse to trying new things. It's also the starting point for where the journey of (wearing) a thousand hats begins—a journey that all of our ST&Peeps know by heart and apply to their disciplines to better serve our clients. And, a journey we're so skilled at taking, we can do it blindfolded, in the blistering snow, wearing no shoes, uphill both ways. Here's an example.
I'm a copywriter. I love all things grammar and grammar related and love to write about them. New words/phrases added to the dictionary? Hell yeah! Top 10 Grammar Mistakes and How to Avoid Them? Color me there. Silly, some-how newsworthy punctuation stories that are most perfectly paid off with image of the husky pun meme dog (see insert)? Oh, I am all over it. But, *GASP*! What do you mean there's OTHER stuff out there that people want to hear about??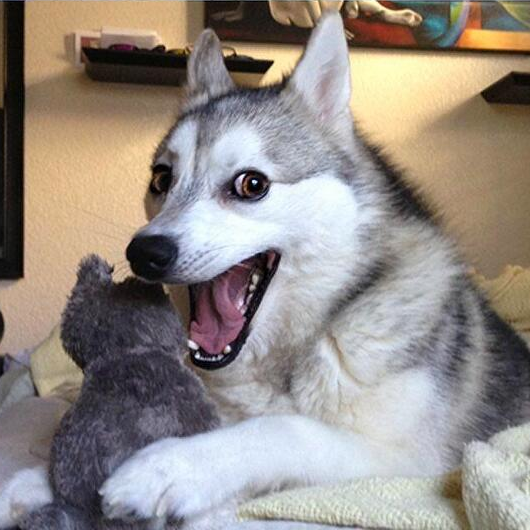 But, seriously, I get it. The subject matter I find to be most interesting might be what others use to fall asleep at night. So, this is where my challenge begins. I must embark on a quest to find industry-leading topics to research, learn about, and then turn around to deliver insightful, fun, exciting content that (hopefully) piques our audience's interest and makes them want to engage with us.
It takes stepping out of my "English Major" box and embracing the chaos that is learning about different thoughts, issues, and subjects that may be Greek to me, but with a little hard
work and a lot of elbow grease, may soon become languages that I am fluent in. It takes powering through any number of roadblocks, detours, and reroutes—mainly from a lack of understanding/deeper knowledge of the topic at hand—and becoming proficient in said subject.
It can be a headache at times, sure, but it's absolutely worth it. It forces me to set aside my biases, take a step back, and open my mind to seeing/learning about what's trending and hot in the industry—outside of English, grammar, and punctuation, of course. This in turn helps me enhance my general industry knowledge and use those new understandings to connect with different groups throughout the advertising circuit. It also affords me the opportunity to personally (*pats self on back*) help reinforce and strengthen our agency expertise. And, let's not forget to mention it awards me by letting me sport some pretty chic, trend-setting hats in the end.
Ok, so after all that being said, I want to know…What are some topics YOU would like ST&P to discuss? Comment below or shoot us a note for a chance to have your topic featured in our monthly blog.